I've never seen so many stores clogged together that sell solar panels than in central Mandalay. The popularity of these is easy to understand. Not only are the environmental conditions quite right for that technology, China is also just next to Myanmar (where they are produced).
And of course, there is the notorious unreliably of the public power network. This is expressed by the "safe boxes" connected in front of every air conditioner there is which monitor the voltage from the socket and, well, do something if the voltage gets to low or high (don't know what, never happened).
To be more independent of the public power network, many hotels but also shops, restaurants and probably also families have their own generator that supplies power in case of a power cut. Which happen regularly by the way.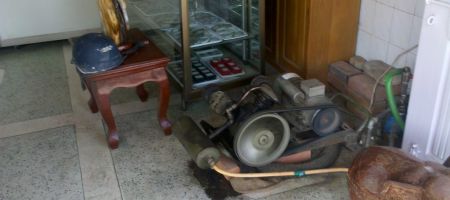 Running generator in a jewelry
Solar panels are normally not installed at a fixed place but just put on some table or sun-lounger in the yard and connected to a car battery. A makeshift charging station. The people can then just connect their batteries with 12V lamps or other systems and be happy. In areas with no electric power at all, like, outside of bigger cities, solar power makes electricity available in the first place.1
The use as a charging station for (portable) batteries is so predominant, that one can buy smaller sized batteries in a format that is easier to carry and sport a carrying handle and all.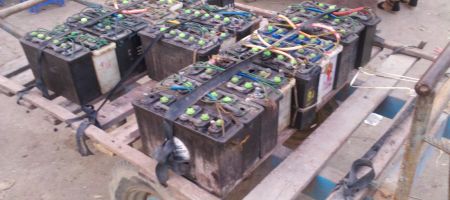 A "power cart". This cart was used to power a huge sound system which boomed Myanmese pop songs at a flower and vegetable market near the riverside in Mandalay.
Other than Chinese solar panels, there is something else that is sweeping into the Myanmese market. And this is a new, newer than the 2 years since many countries loosened their embargoes on the country. Now since less than half a year ago, so I was told, mobile telephony is available to everyone! So, public telephone boxes tables like these…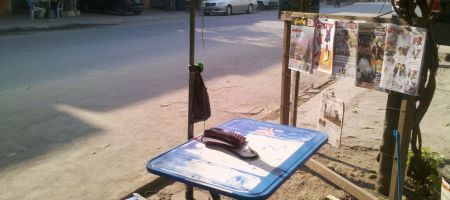 as seen so often on the streets of Mandalay (currently out of order, the operator is on lunch break)
… will die out.
Instead, considering that public mobile telephony is only available to the broad masses since half a year (again, so I was told), Android shops selling Chinese smartphones (Huwai is a quite popular brand here, otherwise fake Samsung and iPhones are also available) are popping out of the ground like mushrooms. The discrepancy between the new shops and the established ones is sometimes striking, like in this photo: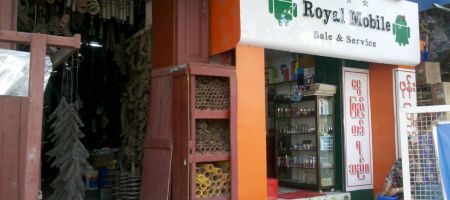 Do you see what the shop on the left is selling?
---
1 I found the whole idea of being independent of the public power network so alluring, I also wanted to try it out. So I bought a compact 5V solar charger kit for about 21 USD that includes a small 30×25cm panel, a Li-Ion charger with a 5000mAh battery and 3 USB output sockets (and some 5V LED USB lamps). I have yet to put it to proper use, but it's working so far. :-)