So from Bagan I planned to go to Meiktila with local transportation.
Once out of the tourist infrastructure, I had to experience that suddenly everything takes much longer. Surprisingly it is not that much cheaper as well. I took a pickup from Nyaung U (Bagan) to Kyauk Padaung, made a stop there to visit Mount Popa and changed into a bus to Meiktila afterwards. The whole trip is about 150 km and it took me the whole day (10 hours).
Like transport ships in the old times, it seems, that before a pickup can leave, it has to be loaded so heavily that everything is so stuffed with people and goods that nothing can move even at rough seas. Only then, it sets sail and ponderously leaves the harbour.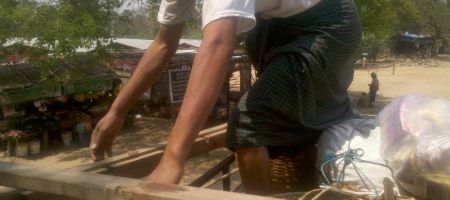 During the journey, people got onto and off the pickup and took their goods with them. Mostly farm produce like sacks of rice, big baskets with vegetables but even furniture! In the above photo, the co-driver is fastening a table onto the roof with a rope. Claro, how else would you transport stuff like that other than in public transportation in a country like this if you don't have a car?1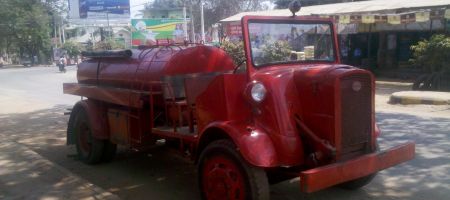 A firetruck at the fire station in Kyauk Padaung. No doubt it is still in use.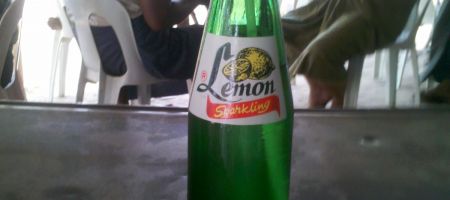 While waiting for the bus, I found this brand name very intriguing: "Lemon – Sparkling". It held its promise.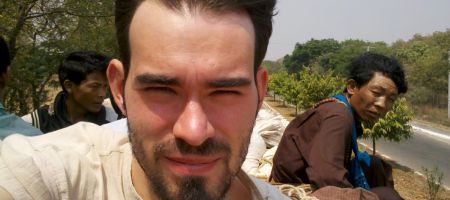 In the same way, the journey was quite exhausting. As you see on the photo, I avoided the crowded inside of the pickup in exchange for a heat stroke on top of it on a cloudless day in the savannah at 35°C.
The bus from Kyauk Padaung2 to Meiktila was also a sight: All the seats except for the first 6 rows or so had been removed to make place for cargo. In my case, the cargo was a few dozen white sacks with gravel, cement or something. Additionally, the departure was delayed because the drivers had to scrape of the lettering from the front and replace it with another. Obviously, the route or the company that owned the bus just changed.
Regarding the "we transport everything" attitude, another thing comes to my mind: In Thailand, I watched a few times how minivan drivers would receive and transport common post parcels along with their normal freight (passengers). I wonder if they are perhaps contracted by local post offices to transport some parcels on fixed routes?
---
1 Though it is to say, there is not really anything like public transportation, the pickups are more like collective taxis ("Sammeltaxis").
2 Which I mapped by the way. However, except for the fire station and the bank, I took everything from satellite after the trip. So all roads are on the map now, but the city looks quite empty still. Let's see how many mappers come by Kyauk Padaung in the following years and survey it. They are working on a good basis now. (Click for animation)